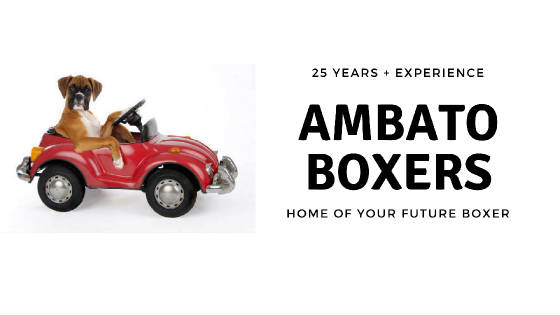 Boxer Breeder in the Niagara Peninsula, Ontario
ONTARIO BOXER BREEDER
The home of your future Boxer puppy! We have beautiful Boxer puppies that will complete your family, please call us to arrange a visit.
CKC REGISTERED -CANADIAN KENNEL CLUB
Home raised, made and raised with love, parents on site. We have been raising Boxers for 30 years, have a good reputation. Our Boxers families come back for their second and third Boxers. We thank God for our beautiful and healthy bloodlines. And we are proud to give you 5 years guaranteed.
Our mission is to provide a healthy family pet to be a part of your family. Our dogs will sure bring lots of love, hugs, and happiness to your home. We love Boxer dogs, they are great family pets, and we feel very blessed to provide our dogs to your family. Boxers is our passion, this is the reason why we have been raising Boxer dogs for over 30 years.
Ambato Boxers wishes you Boxer kisses, love and peace.
We love Boxers and Boxers love US.
If you would like to visit, please call.
Whistler swimming with his Dolphin friend.