We Love To Hear From Our Clients, Here's What They Are Saying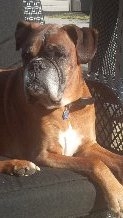 "Hi Sofia, I just thought I would touch base with you and send you a picture of Mugsy! He just turned 14 years old!!! We are so happy that we found such an awesome breeder!!! I am sure your the reason why we were blessed to have our boxer for this long!!!" – Judy...
Want to Share YOUR Story?
Email some Pics and your story to love (at) AmbatoBoxers (dot) com