I love hearing from my customers and seeing how the dogs are doing.
"Hi Sofia, I just thought I would touch base with you and send you a picture of Mugsy! He just turned 14 years old!!! We are so happy that we found such an awesome breeder!!! I am sure your the reason why we were blessed to have our boxer for this long!!!" – Judy Weeks,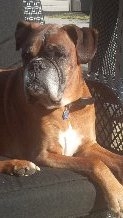 ---
From: la*****@hotmail.com
Date: Sat, 17 Nov 2012 22:38:02 -0500
Dear Michelle
I purchased my boxer from you almost 9 years ago, I just wanted to send you a quick
note to tell you he's been and still is the love of my life. His name is Amos and he's been the prefect dog! Thank you!!
In the near future we plan on getting another
boxer and would love to get another from you.
I've attached a few pictures of my handsome man
Laurie Pare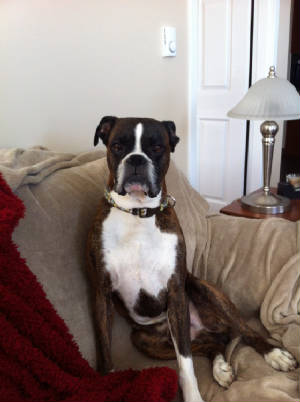 ---
"Ambato Boxers" is a wonderful breeder. We got our boxer boy "Duke" from Sofia last February. Duke is such a joy he is such a happy and playful boxer. We always get compliments on how beautiful he is, and how well behaved he is. Through the last year I have contacted Sofia to ask her questions on diet, neutering, and medication (Duke had a kennel cough from daycare); she has always taken the time to provide detailed answers on what she thinks is best, and some insight on her experience after years of breeding boxers. Sofia cares so much about every dog and puppy. There is a lot of love & care put into all the dogs at Ambato. I highly recommend Ambato Boxers for your next canine companion. Thanks to Ambato Boxers for all your help, and for our adorable boxer Duke.
Lisa & Diego Sontacchi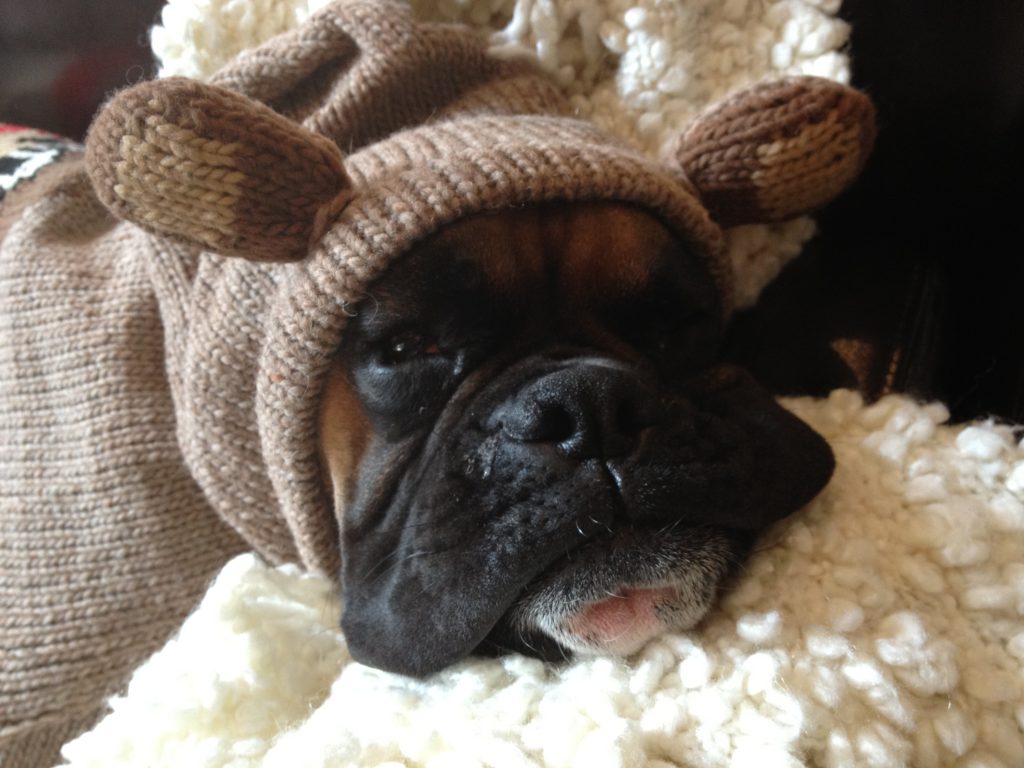 ---
"Hola Sofia, Would it be okay to give you an email about Imogen? She's a therapy dog at an old age home too. Can you believe she's accomplished so much. I know it's the love and care that you gave her, that is making her so wonderful now. We couldn't live without her. Even my family doctor wants her to come in to see him some times, waiting right in the office with all the other patients.It is therapy for him too I guess. She goes to the vet easily and is always happy to see all the workers there. She doesn't disturb other dog patients. Imogen gives big soft Boxer kisses to everyone, and seems to know who really needs it. Her swimming skills outshine the Portugese Water dogs near here. She goes everywhere in the car without a fuss and into any venue I ask her to go. She can even climb onto an elderly person's lap on the wheelchair without hurting the patient. She has visited people in hospitals too. Everyone loves her, even people who aren't crazy about dogs. She's just a big Love Sponge. She goes for walks with me off leash and always comes when she is called. She is so very gentle with my 16 month old grandson and any other children we come in contact with. She didn't even bother a blind 2 year old grandchild of my friend. Anyone who is lucky enough to pick an Ambato Boxer will be thankful forever. You have a good gift for matching the right dog with the right family. I am eternally grateful for having the most wonderful dog I've had in many years. I cannot put into the right words how much we love her. We want to come and see you before the snow flies. Cuidate mucho mi amigita Sofia. Noreensita xo"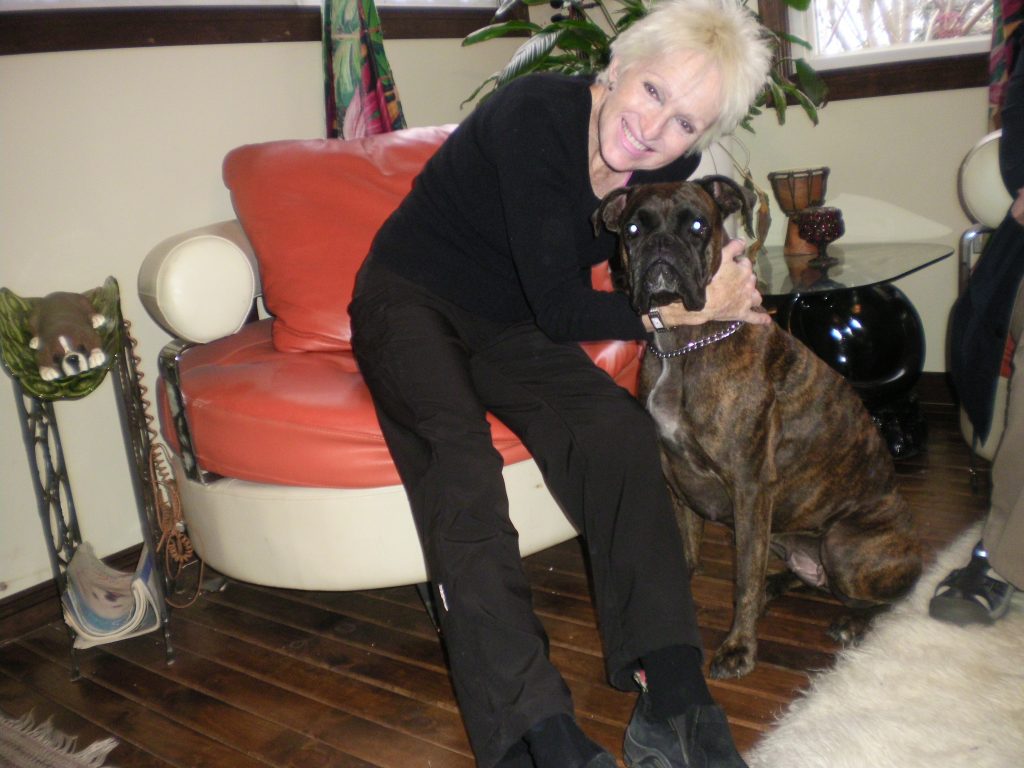 ---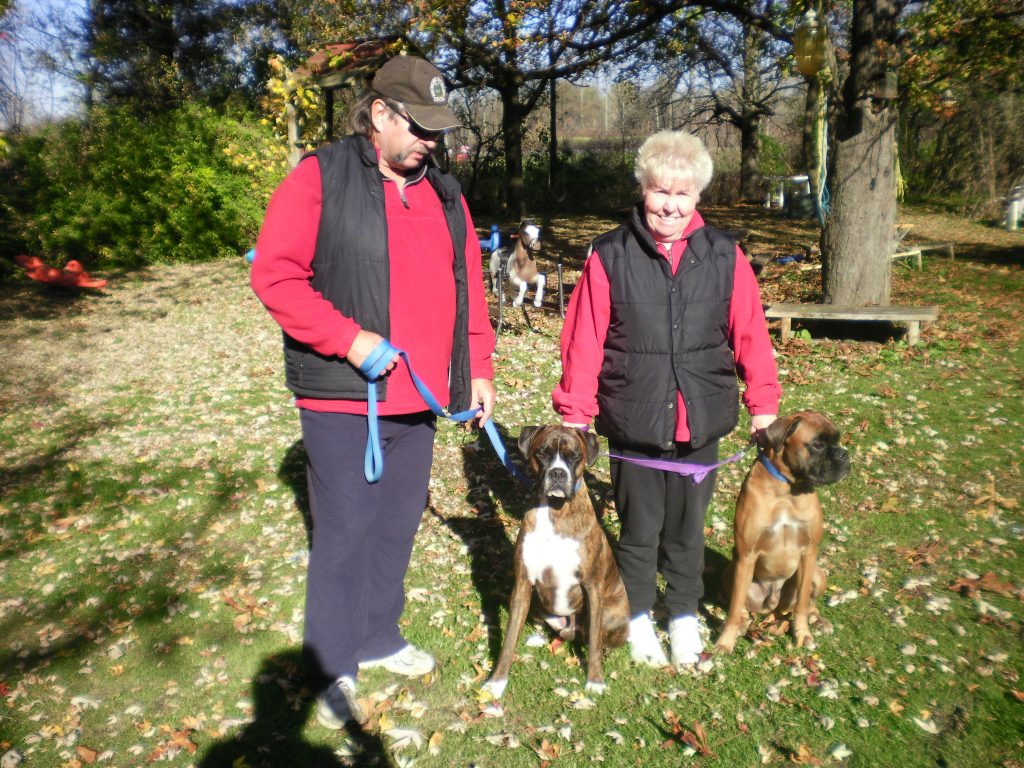 ---
"Hi Ambato Boxer family!! My girlfriend and I bought an amazing Boxer (Chewy) from you Aug 24th 2009. We have been blessed to have come across you guys as a Boxer breeder.
We always get amazing compliments about Chewy, the way he looks, his personality and companionship has been outstanding and a great addition to our family!! "
---
I would love to Thank some of my happy customers: Shannon, Easton, and Russ for these wonderful pictures. They have monthly Boxer park play dates!!! A group of them meet and let all their dogs play with each other!! Its wonderful to see my boxer babies having a wonderful time with great families like YOU!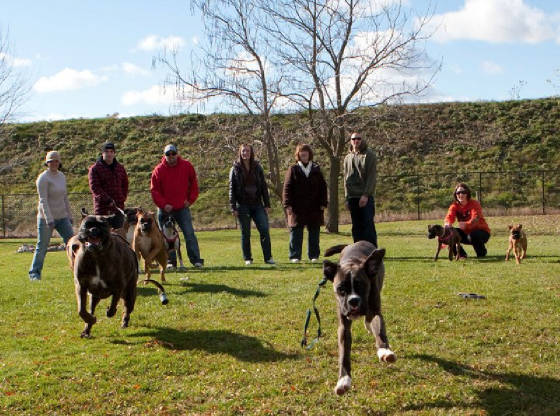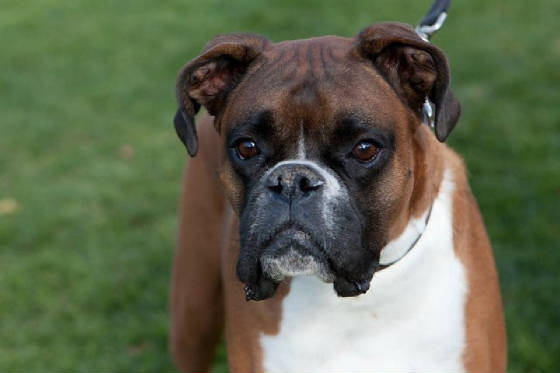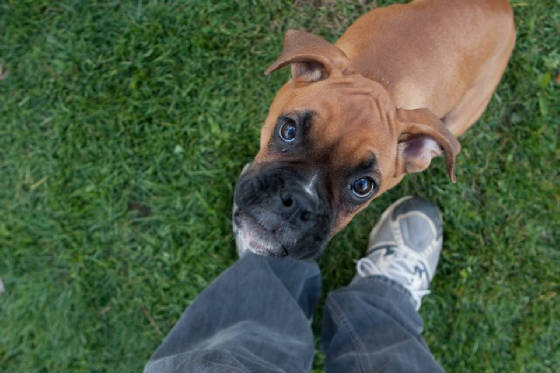 ---
BELOW ARE MORE HAPPY CUSTOMERS WITH THEIR NEW BOXER DOGS!! THANK YOU FOR SHARING THESE PICTURES WITH ME AND FOR LETTING ME KNOW HOW THEY ARE DOING!!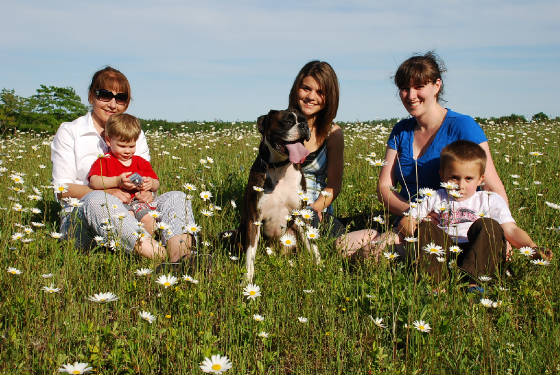 ---
Porcha's visit back to see her family on our farm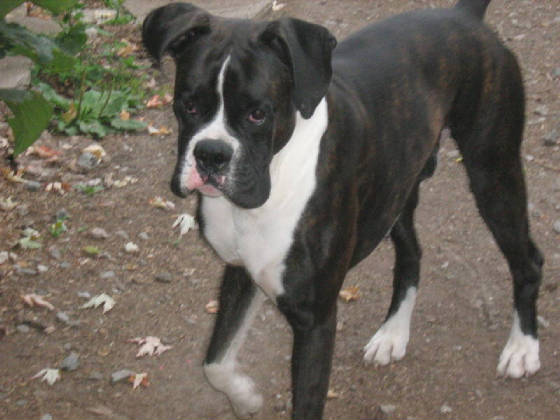 ---

---
Thought I would send a few pictures of our "Handsome Blaze." He seems to be fitting in to our family like it was meant to be. He is definitely a smart little pup and happily meets and greets everyone big and small. He enjoys runs in the bush behind the house with Molly and the
grandchildren and is a dream to have in the house. We can't thank you enough for helping us choose him. He and Molly are becoming best friends and spend many hours playing together. Molly is the boss still but Blaze can definitely hold his own. We are enjoying having the two boxers and can't imagine life without them. Two boxers together has
always been my dream and thanks to you and your beautiful dogs, my dream has become a reality.
Thank you again,
Bryan and Betsy Allan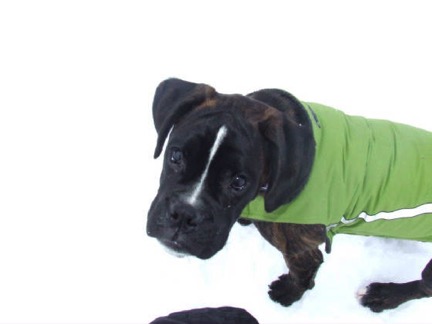 ---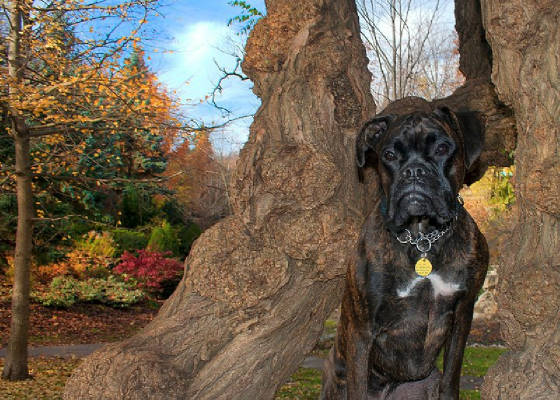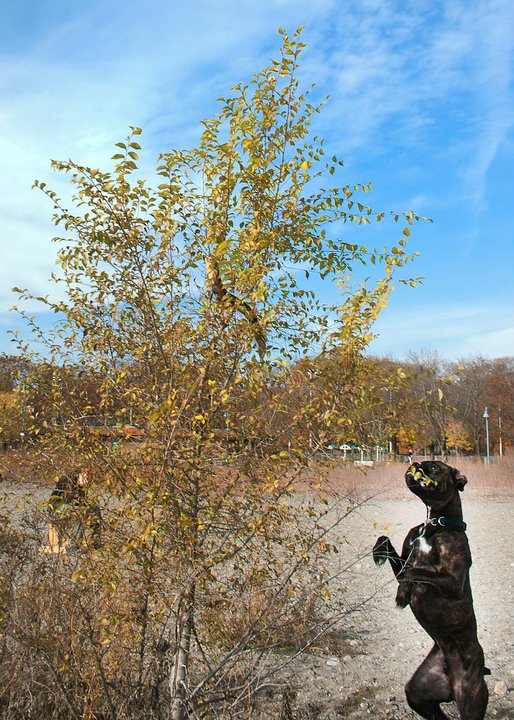 ---
Hello from Maple. This is Tango and Tasia I hope you remember us from 10 years ago. The dogs are doing amazing However Tasia has a sore hip we are treating it with advice from the vet and the internet. She can do half our walk and as you can see we trailer her the rest of the way.
The dogs have, and continue to warm our hearts every day what a great breed.
Just an update for you…..
Sincerely Colin and Nadia Aspden.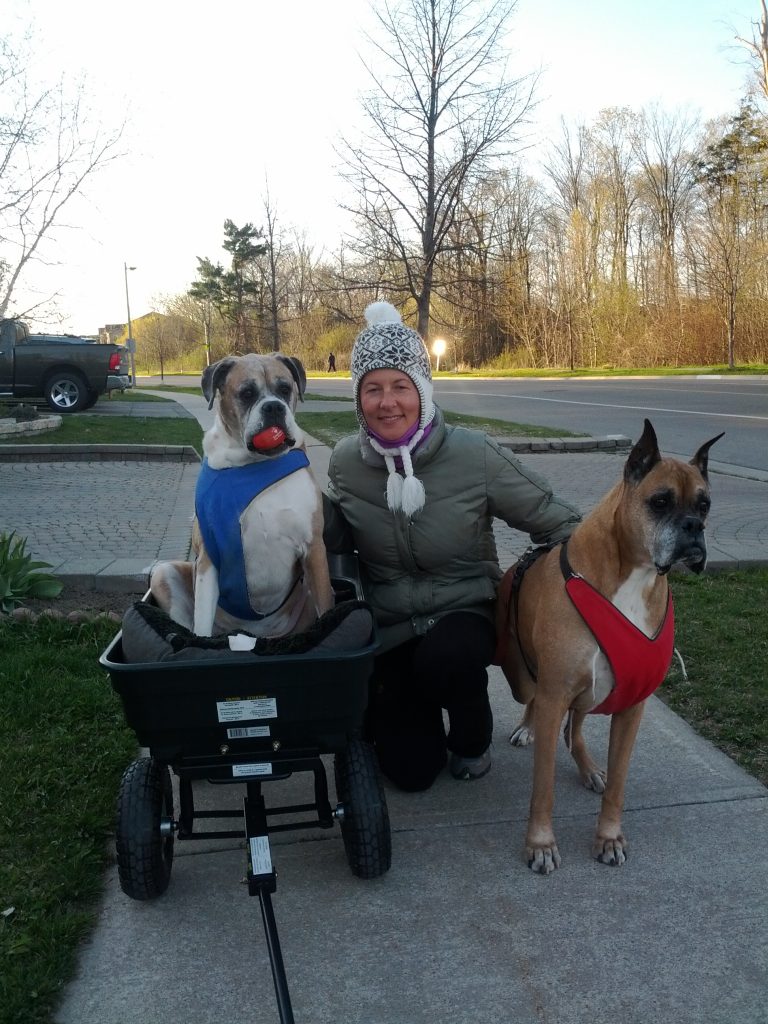 ---